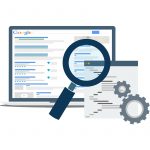 OnSite Optimisation
£90.00
Search engine crawlers assess the relevancy of a website using hundreds of different ranking factors, so it's important that your website has been developed to be compliant with the latest algorithms. If your website isn't well-optimised, you'll struggle to rank organically.
OnSite SEO involves analysing your website's design, structure, coding and content to determine if improvements can be made that will increase its chances of ranking well. Every element of the website needs to be scrutinised and optimised, from individual page header tags through to broken links.
Description
What's Involved In Our OnSite Optimisation Service?
At the start of any project, we recommend that our clients invest in a full onsite SEO service. Whether you've just launched your site or it's been around for a number of years, carrying out an onsite review is vital if you want to give your SEO campaign every chance of success from day one.
Our standard onsite SEO package includes:
The completion of an onsite checklist which assesses the website against a number of known ranking factors.
Optimisation of targeted page content and meta data.
Website loading speed. We aim for a 4 second or lower load time.
A full report is provided on completion of the OnSite SEO, showing what areas we have worked on and all the tasks that have been completed.
---
Only logged in customers who have purchased this product may leave a review.